Orchestra members are encouraged to purchase their own score.  They are very inexpenseive.
The preferred score for orchestra is edited by E. Prout and published by G. Schirmer, Inc.  The ECO has used this edition for many years.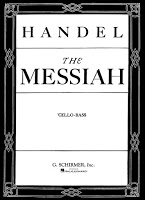 Chorus members are encouraged to have their own vocal score.  They are not very expenseive.
The preferred edition is published by Roger Dean Publishing Company, Lorenz Publishing Corporation and edited by Leonard Van Camp. 
If you have the Schirmer Score, please see the Van Camp vs Schirmer section below.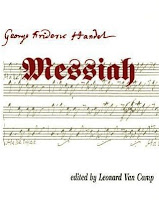 Orchestra and Chorus members can purchase their score at rehearsal or at the local music store:
913 Main St.
Evanston, Wyoming
307-789-2335
10:00-6:00 Mon-Fri
10:00-3:00 Sat
It is edited from Handel's autograph & conducting scores. Over 100 errors were corrected from previous editions.
It has been re-engraved in modern notation, making the score cleaner and easier to read.
It includes measure numbers.
It includes breath marks and other useful editorial suggestions.
The keyboard accompaniment is more manageable than the Schirmer edition.
If you already have the Schirmer edition, don't worry.  The pagination & rehearsal letters are the same as the Van Camp.
However, you will need to edit your Schirmer for measure numbers, breath marks, and occasional text placement and rhythmic corrections.  
Edits For Schirmer Edition: