"Spreading JOY in our COMMUNITY through MUSIC"
Music is our passion and we share that passion and joy through community concerts and events. 
We perform classical, traditional, folk, and spiritual music as well as madrigals, movie themes, Broadway hits, and pop music.  A typical performance season consists of Fall, Holiday & Spring concerts.  We've performed with visiting guest artists, at "Evanston's Fresh, Air & Freedom Festival", and more.  
The Evanston Civic Orchestra & Chorus also hosts special musical events such as
Learn more about these special musical events by clicking on the above links.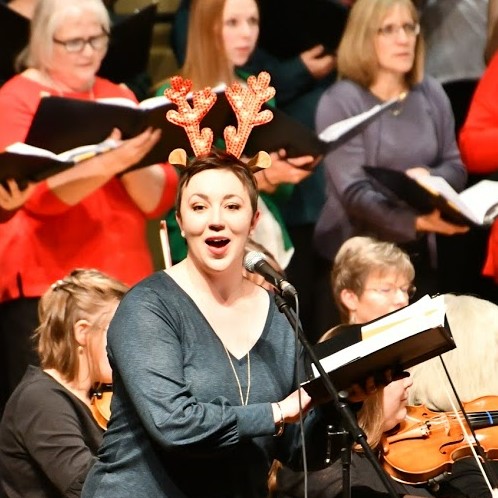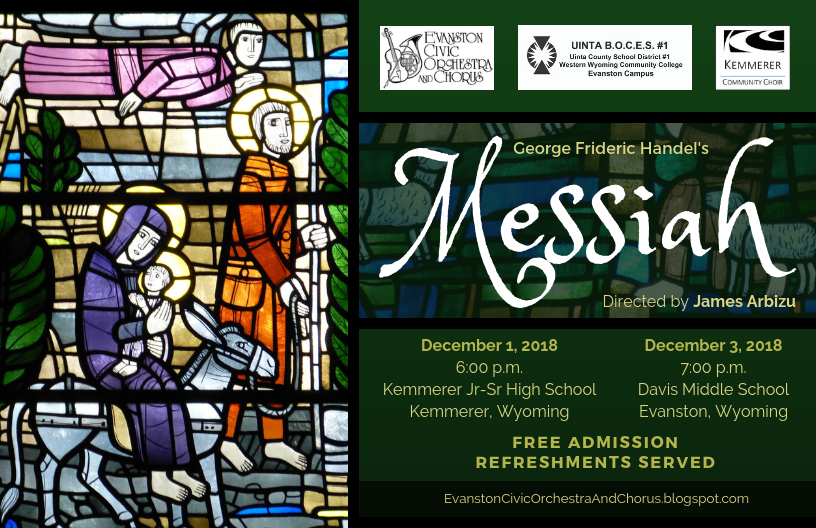 The ECOC performs Handel's Messiah every 2-3 years.  Usually, we perform it at Christmas time, but occasionally it's performed at Easter as well.  For the past couple of performances, The Kemmerer Community Choir has joined us.  We performed in both Kemmerer and Evanston those years.
While we do not perform Handel's Messiah in it's entirety, our Music Director develops a concert that includes traditional favorites along with lesser known songs, recits, & arias.  This provides the thematic arc of Handel's Messiah without the need for a lengthy concert.
Visit our Photo Gallery, Video, & Past Performance pages for highlights of our past Messiah performances.
Evanston Community Christmas Gala:
Every couple of years, the ECOC hosts the Evanston Community Christmas Gala.  This is truly a community event.  Musical performance groups throughout the city perform including:
Madrigal Singers
The Hand Bell Choir
Church Musical Groups
Instrumental Quartets
The 2017 Community Christmas Gala also included a "Family Christmas Party" with children's activities, refreshments and drinks, and a gingerbread village.  Besides the musical performances, the Gala also included
A Silent Auction
A Bake Sale
A Food Drive for The Lord's Storehouse
This is truly a community event that everyone looks forward to.  It's a great way to ring in the yuletide season.
Visit our Photo Gallery, Video, & Past Performance pages for highlights of our past Community Christmas Galas.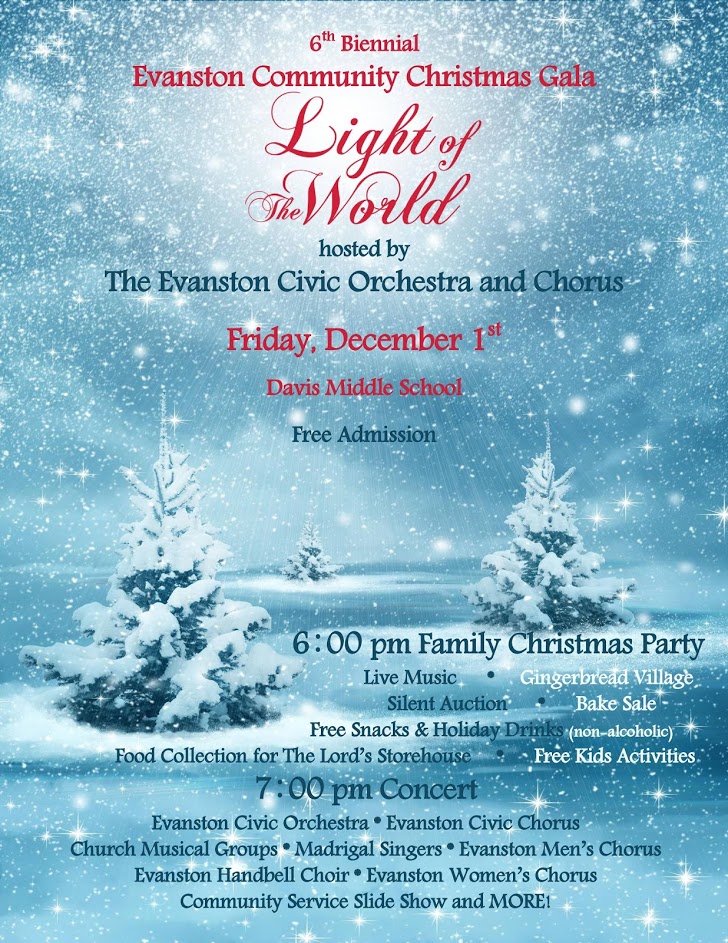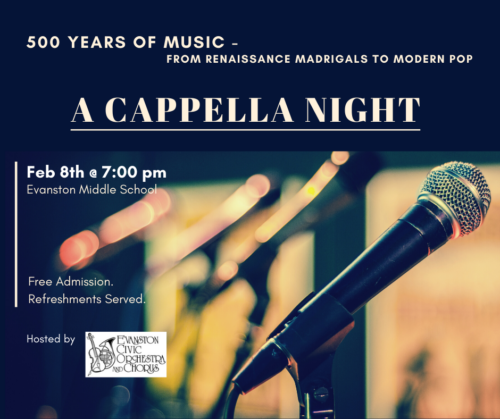 Recently the Evanston Civic Chorus has begun to host an "A Cappella Night".  The ECC invites community members to form & register choral groups to perform that evening along with the Civic Chorus.
A Cappella Night is a fun, relaxed evening of music ranging from 
Spirituals
Renaissance Madrigals
Barbershop Quartets
Folk & Traditional Songs
International Music
Modern Pop, etc.